Hello, Dear Readers!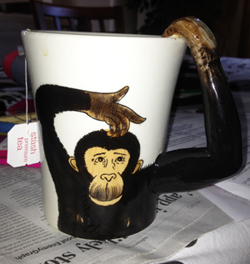 As I sit here with a monkey mug full of my 4th serving of hot tea for the day, I'm questioning everything that's transpired over the past two weeks.  Should I have insisted that my daughter perform her comedy routine in the school talent show even though she didn't feel good?  No.  I thought she was just nervous or had constipation, but she ended up in urgent care that night.  However, she gave a slammin' performance despite suffering what turned out to be a severe infection.  High five, stage-moms everywhere!  Should I be more prepared for power outages?  Yes.  Should I have attempted to kill a snake with a hand-held jigsaw?  No.  Do my dreams about blood-sucking vampires mean anything?  I hope not.
I've also come across some debatable products and marketing services recently, and I'm asking your opinion.  We can question everything together.  First, take a look at this condom box.  This brand has been around long enough for almost everyone to recognize it.
Now check out this ad:
I wonder if anyone in the ice cream bar marketing department realized that their new campaign was eerily similar to the condom branding.  If so, I would've loved to have been in those meetings.  If they did it on purpose, and I think so, I have a request to make other mundane products sexier.  Think of what turning Magnum could do for oatmeal!  Heart disease prevention has never been more exciting!  Thoughts?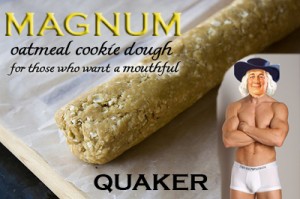 Next, let's explore the possibility of applying mathematical formulas to shorts in order to prevent sagging butt cheek exposure.  I think that shorts should not be sold if the diameter of the waistband measures two times or more than the length of the shorts.  How do you feel about this?
Finally, I urge the people of Gap to stop smoking crack.  They're trying to get women to show our cracks with hideous one-piece, semi-backless jumpsuits.  This product should never be sold at Gap, never in denim, and never in any size above small.  How unflattering can you get, Gap?  However, I do owe Gap thanks for providing me and my mom a good laugh.
*Bonus question: What is Target trying to sell with "durable lace?"
What have you come across that should not be sold or has a questionable marketing campaign?  Besides Oklahoma tourism, of course.  Just kidding, I'm going there in July.
**Bonus statement: While I'm questioning judgement, I'd like to brag that Robyn at Hollow Tree Ventures, who is one cool chick I totally plan on meeting in real life at a blog conference some day and wreaking havoc with, has nominated me for TWO blog awards, the Lovely Blogger Award AND the Liebster Award!  Wohoo!  I only questioned her judgement for a second before deciding to pretend that I totally deserve these awards.  Thanks, Robyn, for being the first to award my greatness!  I feel honored to be nominated by you and your funny blog!
***Bonus warning: (We had a lot to catch up on.) I'm a wanted cart staging criminal according to this picture, so now I can mark that off the bucket list without having to go through with any future evil plans!
All signs of good judgement are gone; I'm creating an new award called the Magnum Award.  More details to come!
The 4th funniest blog on the web!